East District Cross Country League 2 Results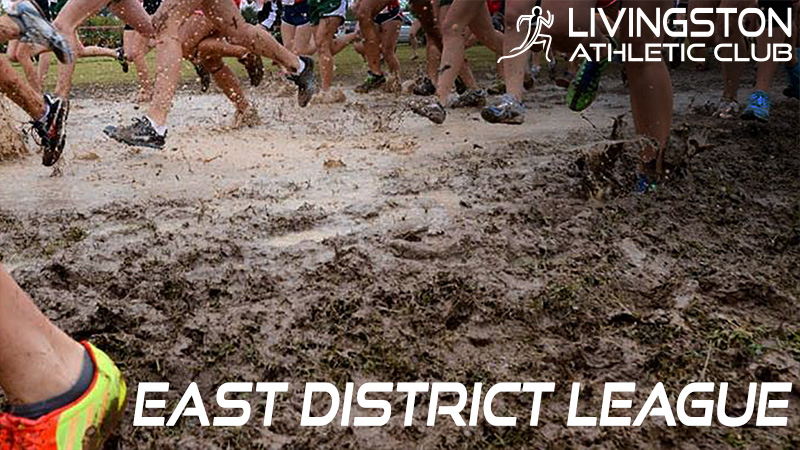 On Saturday 23 November, 16 Livingston athletes were at Broxburn for the second round of the East District Cross Country League.

In the 1.5K U11 Boys race, Connor Greenhorn was 43rd in 6:31 and Ethan Smyth was 49th in 6:41.

Mia Sokoluk was 8th in the U13 Girls race, on a 2.7K course, in 11:14. Rebecca Douglas was 22nd in 11:57.

In the U13 Boys race, also on the 2.7K course, Moray Butler was 45th in 11:50.

Logan Beagley was 7th in 14:50 in the U15 Boys race, on a 4.1K course.

In the combined U15 Girls/U17 Womens race, also on the 4.1K course, Isla Calvert was 1st in 16:10, Zoe Dunn was 4rd in 19:25, Shannon Prevost was 45th in 19:32, Sophie Ure was 60th in 21:00, Rachel Small was 62nd in 23:03 and Kirsten Morris was 64th in 24:25.

In the team rankings, the U15 Girls/U17 Women were placed 6th overall.

Fraser Holman was 4th in the 5.4K U17 Mens race, with a time of 19:51.

In the combined U20/Senior Womens race, Katie Craig finished the 5.4K course 20th overall and 4th U20.

Cameron Tweedie and Ryan White were both running in the combined U20/Senior Mens race, with Cameron finishing the 8.1K course 165th in 36:51 and Ryan finishing 257th in 50:52.
Related Pages